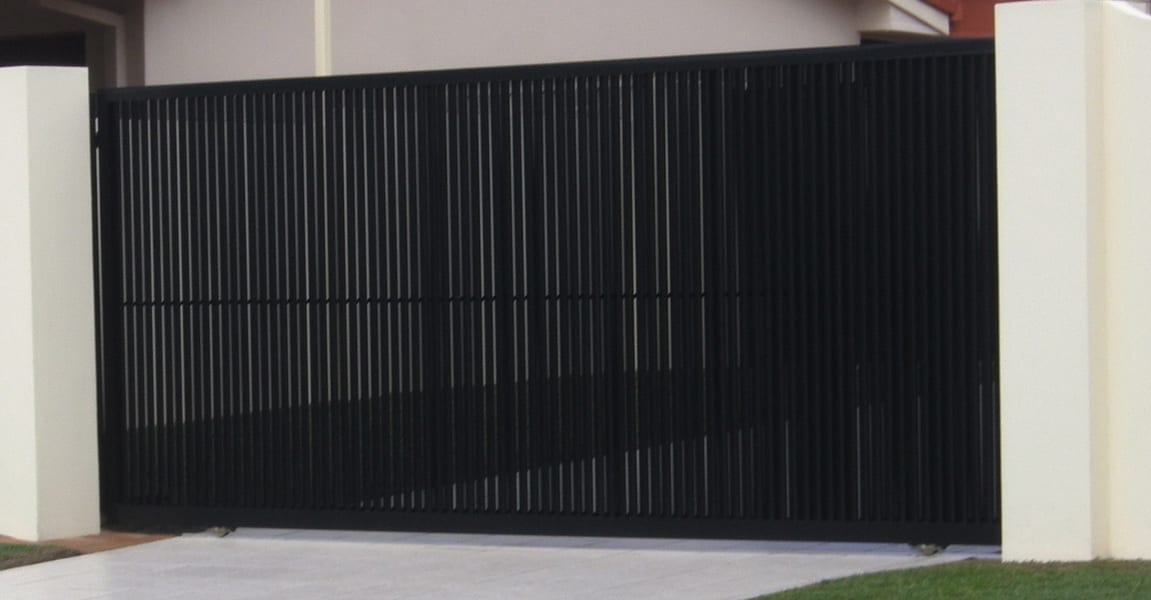 Sliding gates are a great choice for people wishing to optimise space.
One of the advantages of choosing sliding gates is that they require less space than traditional swing style gates.
Fencing – Gold Coast – Sliding Gates
Sliding gates can be installed to be opened and closed automatically or manually. Shape, size, design and colour can all be customised to match your existing fences or building.
We typically manufacture sliding gates from aluminium however in cases that require a commercial level of security we can manufacture sliding gates using steel for extra strength and protection.
All of our sliding gates are manufactured by us at our Gold Coast based factory where we can ensure it is made to Australian Safety Standards. We also have our own in-house powder coating booth which allows us to paint your sliding gates in virtually any colour you request.
Sliding gates combined with an intercom system can be a good way to deter unwanted callers such as door to door sale people. Let in only the people you choose to welcome in.
Tired of dealing with trades people who treat you like an inconvenience? You won't get that when you work with us, we're reliable and we turn up when we say we're going to turn up!
We are proud to be the original fence and gate suppliers and installers for the Gold Coast. We've been doing business with homes and businesses all over the Gold Coast and surrounds since 1989.
When experience counts call the experts! We're open Monday to Friday 8am to 4pm. Give us a call for a free no obligation quote for your next sliding gate project or come in and visit our office. We can take care of supplying and installing sliding gates for driveway access or pedestrian access.